Events Listing
Our Spring Festival is now over. Thanks to all for making it a success!
Join us for our 6th annual Birding on the Madaket boat tours Sunday, August 23, 2015.
Scroll down to register.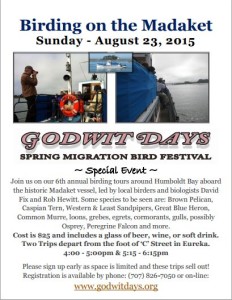 Questions? Contact godwitdaysreg@yahoo.com or (707) 826-7050.
Sunday, 08/23/2015
Saturday, 09/26/2015
Sunday, 09/27/2015
Click here to check-out.
IF YOU ALREADY HAVE AN ACCOUNT, PLEASE LOG-IN BEFORE CHECKING OUT.    Link to log-in page.